Stillwater Ukulele Association is excited to welcome
Austin Ukulele Society's Bob Guz
for a ukulele workshop in Stillwater on May 18!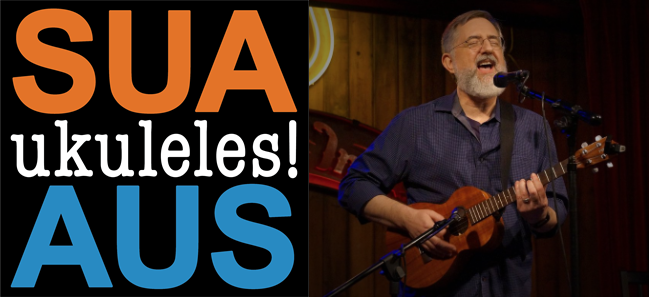 Who:  Bob Guz is President and Music Director of the Austin Ukulele Society, an organization he and co-founder Jen Richardson kicked off in January 2011. Their monthly meetings regularly attract 140-160 players. Bob teaches a new song at each meeting and over time has developed techniques for analyzing songs and teaching a huge group of folks of all skill levels to play, sing and perform songs, in about an hour's time. Bob also heads up the Austin Ukulele Ensemble, a performance group of about 20 players who perform at local libraries, assisted living facilities, and other venues.
Bob has played ukulele for over fifteen years, and he has been teaching folks to play and sing for most of that time. He has created instructional materials and taught workshops at the Lone Star Ukulele Festival and Kerrville Folk Festival, and teaches a series of ukulele classes for the LifeLong Learning Organization of San Marcos, Texas, just to name a few of his endeavors. He has also enjoyed playing ukulele with professional bands including Shorty Long and the Pine Beetles. 
When:   Saturday, May 18th, 2019; 1:00 pm - 4:30 pm  (workshops 1:00 pm - 3:15 pm, concert 3:30 pm to 4:30 pm)
Where:  Stillwater Public Library, 1107 S. Duck, Stillwater OK; 3rd floor (take elevator in NW lobby off of Duck St. side entrance)
What: 
   Join Bob Guz for informative workshops and a concert. Both high- and low-G ukuleles are equally welcome in these workshops. Beginners, intermediate players, and advanced musicians will all be provided something of interest in each workshop. 
Workshop 1: "Putting the Strings in Motion: Strumming Techniques" While developing their skills, many ukulele players focus most of their attention on the fretting hand, learning new chords and how to smoothly transition between them. But it's the other hand that manages a song's tempo, rhythm, volume, and "feel" -- the hand that controls the strings' vibrations with strums, plucks, picks, and mutes. Developing skill and variety in your strumming technique is critical to making your music exciting and interesting. In this workshop we'll break down the elements of strumming with a focus on rhythm, counting, and proper hand positioning for a more effective and precise strumming technique. We'll explore several popular strum patterns, from simple to complex, and touch on more advanced techniques such as finger-picking, chucking, muting, and rolls.
Workshop 2: "Ukulele and Voice: Using Both Our Instruments" In this workshop, we'll do an analysis of a popular song, breaking it down into its component chord progressions, strum patterns, distinctive musical expressions, and other instrumental features. We'll also employ techniques using our "other" instrument -- our voices -- by exploring the song's vocal melody and harmonies. For more advanced players, there will also be tabs for picking parts that add spice to the song. We'll study and practice these components separately, then "re-assemble" them part by part until we ultimately play the song in its entirety. Learning to use our voices to accompany our ukuleles is a big part of the fun, so please come prepared to sing out, whatever you believe your skill level to be.
After the workshops, Bob will perform a solo concert.
Why:   Because we love the ukulele and love learning and improving our musical skills - and there will be door prizes!
Cost:   $25 (includes workshops and concert) payable by April 16th May 7th. 
How to pay and reserve your spot:
Cash to Kami at upcoming SUA meetings (4/2 and 4/16) May 7th
Check payable to Stillwater Ukulele Association to Kami at upcoming SUA meetings (4/2 and 4/16) May 7th
PayPal (for more information, email StillwaterUkuleleAssociation@gmail.com)
Mail a check payable to Stillwater Ukulele Association to arrive by 4/16:
Kami Koontz
601 S. Washington, #309
Stillwater OK  74074-4539
We must meet a minimum number of participants to make the workshop happen. We also have a maximum number we can accommodate.  Please get your payment in soon to reserve your spot. If you need to make a different payment arrangement, please reply to Kami at this email address.
If you have any questions about Bob Guz's workshops and concert on Saturday, May 18th, please
contact us
and we'll be happy to respond.